I'M BACK! ((:
Friday, January 7, 2011
I think it's been a year since I last updated my blog. HAHA! I've been busy with school kasi. Didn't have much time to update my blog. >,< This is ok na rin kasi I've lessen my addict-ness in computer. haha! ;DDDD
0 Person(s) Love Me.
Audition Online Dance Battle
Saturday, June 27, 2009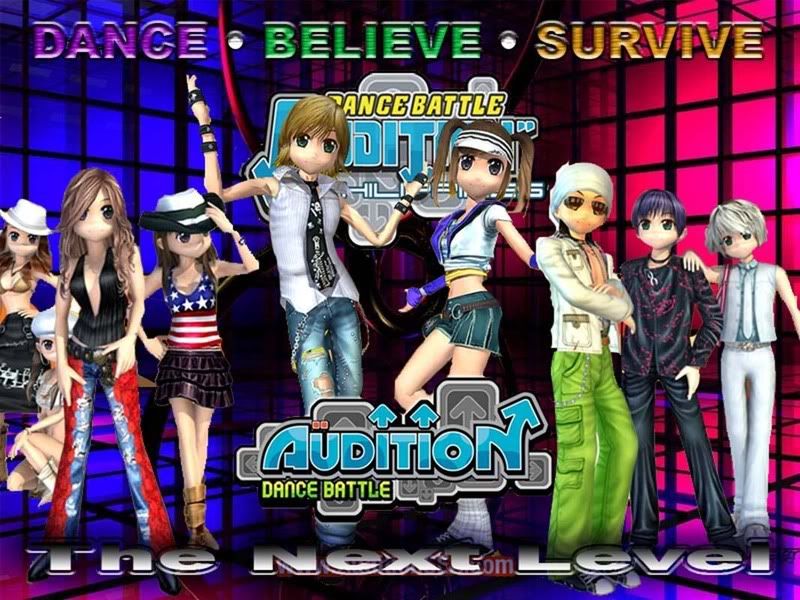 Place where you can enjoy fantastic dance to the beat!
The Audition is the online dance game where all can enjoy the great dance with simple key note input. Compete with friends or come up with perfect choreography. All you need are the direction keys and space bar and you are OK to go!
Okay, So, the introduction's done. haha. And yeah, I have an Audition account. hehe. Well, my rank's "

Back Up

". Currently on

Level 26

. I have a couple na rin. haha. ;]]]]
Labels: Games
0 Person(s) Love Me.
Wonder Girls. ♥♥
Friday, June 19, 2009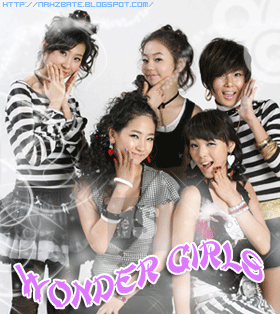 WONDER GiRLS
At first, I thought that Wonder Girls is just another Korean Group but when I heard them sing, I was amazed by how they sang their songs and the tunes of it. Gaaaaaad. I love them.
*wow*
Nobody
,
Saying I Love You
,
Stupid
,
Irony
,
So Hot
and
Take It
are the songs sang by WG that I heard recently. They're really amazing, not only them but also their dance moves.
*lol*
Thanks to
Jessa
and
Chelsea
for telling me this group. ;]
Labels: Groups (Any Countries)
0 Person(s) Love Me.
Happy Advance...
Friday, June 5, 2009
HAPPY ADVANCE 5TH MONTHSARY
po kay ate Faith at kuya Raph.

Here's a video requested by ate Faith. :D


Labels: Celebrations or Events, Show-Off
0 Person(s) Love Me.
1st day of classes in SJA. o_0
Tuesday, June 2, 2009
New School, new friends, new classmates and maybe another new beginning. That words will always pop up in my mind when it comes to high school life. June 3, 2009, Wednesday, the first day of classes in SJA. I'm kinda nervous, excited, happy, sad and mixed emotions ata ang nararamdaman ko. I'm nervous kasi I'll meet new people.I'm excited 'cause first day of classes na. I'm happy 'cause di na ako mabobored dito sa house. haha. I'm sad 'cause I'll not be seeing na my close friends 'cause they're in other school. :( That's why I have this mixed emotions. =) Sometimes I regret studying in SJA, sometimes not. Parang 50-50. haha. I want kasi to study with my close friends pero may sagabal ehh. =) (You don't need to know the sagabal thing. :P)
Early in the mornin' palang, I came to SJA kasi akala ko, malalate na ako, hindi pala. haha. Badtrip rnga, di pwede yung parents makasama papuntang classroom. o_0 Buti nalang, nandun si Tiande para makasama ko papuntang classroom. haha. Section A siya while I'm in Section B. Galeeng. haha. Nung nandun na ako sa 3rd floor, ang ingay2x na ng mga 1st year students dun. Akala ko, di sila maingay, I was wrong pala. haha. Nung papasok na ako sa room ko, ayun, nagtinginan yung mga students sakin. haha. (*in my mind* Anong tingin2x nyo dyan ha? Maganda ba ako? :lol:) Nung nasa room na ako, I was shock of what I saw, I saw one of my schoolmates, which is one of my "kinda don't like" schoolmates. Nung 7:30 AM past na, we had our flag ceremony. After nung mga flag ceremony rituals and more echurva2x before the class starts, we had an activity. Knowing Each Other daw. haha. By group yun. After nung knowing each other echurva, we had this personality test. haha. Kakatawa nga ng results ko ehh. =)) 'Di ko nalang sasabihin pero ilalagay ko yun kung paano. >:) After nun, we had these learning teams echurva. =)) L.T. 1 yung sa akin. :eh: After nun, nagchichikahan nalang kami. haha. Then, nung lunch time na, I went to MCCS, to eat my lunch. Ivan was with me 'cause ayaw daw nya dun sa classroom niya. haha. Grabe, kapagod yun, kasi naman maiinit pa, kinda malayo-layo pa yung SJA sa MCCS. o_0 Nung afternoon class na, we have this seating arrangements thingy. Buti nalang nasa likuran ako. haha. Lalake katabi ko sa right side. Angelo yung name. :eh: Sa left side ko naman, si Shinne. Masaya nga sila kasama ehh kasi nagpapatawa. haha. After nun seating arrangement thingy, we had this practice for the proper line para sa flag ceremony. After nung practice, Madam Bautista gave us students an activity. Role play daw about the hot issues ngayon sa Pilipinas. By L.T. daw yung role play. The topic in my L.T. was about the Disadvantages in bringing those expensive valuables like PSP, Cellphones, Mps and more. Kakatuwa nga sila ehh kasi kakatuwa lang. =)) Basta, di ko ma-explain. haha. After nun, we had this role play na. Bad nga yung performance namin ehh. haha. Buti nalang, di nagalit si Madam B. kasi ano daw, shy pa daw kami kasi first day nga. haha. Buti nalang. hehe. After nun, bumalik na kami sa room. Then, may pinakopya si Madam B. samin, yung about Vision and Mission ng school. haha. After nun, ehh dismissal na. Oh yeaaaaaaaah!! haha. Pagdating ko na sa house, pagod na pagod ako. :lol: Yun lang about sa first day of class ko. I gotta rest na. =))
Labels: 1st Day of Classes, Good or Bad Moments, Mood
1 Person(s) Love Me.